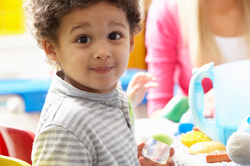 To Whom it May Concern,

I am writing this letter to whole-heartedly recommend The Uncommon Thread for your pilot program.

My family first learned about The Uncommon Thread when my son's pediatrician diagnosed my son Ayden with autism at around 18 months. She spoke very highly of the center and its commitment to providing quality ABA therapy and resources for families such as ours. Nervous yet optimistic, we contacted the center and they were very responsive in answering all our questions, meeting with us, and helping us to enroll Ayden as soon as possible.

From day one, we have received nothing but support and compassion from the entire staff at The Uncommon Thread. In no time, they made us feel at ease with their philosophies and methods. It was so reassuring that we were kept informed of Ayden's therapies and progress every day. The staff has always been so accessible and helpful, answering calls and messages, and scheduling regular meetings to discuss any and all issues we've had along the way. The staff has been such an intrinsic part of our lives that we feel like they've become like family.

I'm happy to say that Ayden has made remarkable strides in the past year and a half that he's been at The Uncommon Thread. In a short amount of time he went from a reclusive, nonverbal child who wouldn't make eye-contact and respond to his name to an outgoing, cheerful boy who is attending a local preschool and talking up a storm! His third birthday is less than a week away and we are excited to follow up with his pediatrician and show her how far he's come.

None of Ayden's progress would be possible without the wonderful staff and resources that The Uncommon Thread provides. My family and I will be forever grateful to the center and its staff for giving our son a chance at a bright, full and happy future. I certainly hope that schools such as The Uncommon Thread continue to be able to provide services and hope for families such as ours for many years to come, and for that reason I strongly recommend The Uncommon Thread for your pilot program.
Unsolicited Client Testimony