TUT Happenings 4Q2016
---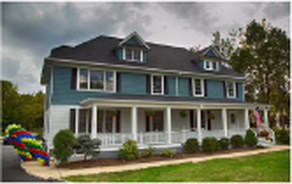 TUT hosted a grand re-opening Monday, Oct. 5

Most years are eventful, and this year did not disappoint. Co-founder's Greg and Aileen Carr opened their doors in Stirling 10 years ago as a non-profit organization that focused on early intervention offering ABA therapy to children with developmental and behavioral disorders including autism. And almost 10 years to the day, they reopened their doors after several months of renovation.

The entire building had a facelift and when the staff and kids returned they were thrilled with the results. The staff loved the new facilities.

"10 years ago we honestly had no idea what the future held," says Aileen Carr. "Our goal was to help as many kids as possible with a diagnosis of autism, and today, we are achieving just that and we are looking forward to supporting more children and their families for another 10+ years."
---
---
Product Update
Early Intensive Behavioral Intervention (EIBI) for young children diagnosed with autism can produce large gains in social, cognitive, and language development (MacDonald et al., 2014).
With an autism prevalence rate of nearly one in 41 children in New Jersey - a 12 percent increase over two years - it became essential that TUT expand it's services. Towards that end, TUT enhanced its existing in-home program by piloting a mobile Early Learner Kit and curriculum that matched our program in the center. After a several months of testing and tweaking, we are proud to announce it's ready to roll out in January 2017.
"Our mission has always been to help as many children as possible, with a diagnosis of autism, reach their true potential," says Greg Carr, TUT Co-Founder and CEO. "This Kit helps us achieve this because it provides us the the opportunity to reach more and more early learners in the home and when ABA is most efficient".
About EIBI:
TUT's Early Intensive Behavioral Intervention (EIBI) program for children ages 18 months and older. The focus of this program is to teach learning and language skills and adaptive behaviors across the domains of communication, socialization, and daily living skills. The goal is to prepare these young children for kindergarten with as few supports as possible by maximizing their abilities at a critical stage in their development, when their brains are most responsive to acquiring and generalizing adaptive skills.
The program runs Monday through Friday; 20+ hours per week. This program also includes parent ABA training in order to promote generalization and prepare parents for the transfer of care upon discharge.
To learn more about TUT's EIBI program in the home, please contact our
admissions department.